Sooke, Vancouver Island / September 4, 2009 / dinner
Winederlust Rating (details below): 9.0 out of 10 / Winederlust Worthy: Yes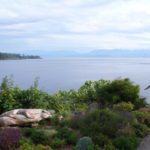 The view from the back patio onto Sooke Harbour.
In preparation for the Winederlust trip to Victoria/Vancouver/the Okanagan Valley in a few weeks, I'm doing an anniversary blog post on our trip last September to Sooke Harbour House on Vancouver Island, widely regarded as one of Canada's best restaurants.
After our European culinary extravaganza last July for our 10th anniversary, we could hardly bare to eat out for a while, even at our beloved restaurants in NYC. But after lots of gym-going and light eating, our stomachs had sufficiently recovered to let my parents treat us to an anniversary dinner at Sooke Harbour, about an hour's drive west of Victoria, where they live.
The Sooke Harbour House is in a beautiful location right on the water on the romantically named Whiffen Spit Beach, and we sat next to the large windows to better appreciate the view. (In fact, while we were eating, a family of otters appeared almost right outside our windows, investigating the sculptures out there.)
Before dinner, the sommelier took us down to the wine cellar to check out his wares. He had a large selection of wines from around the world — 15,000 bottles, in fact — with British Columbia more than adequately represented.

Vincent showed us around the Sooke Harbour House wine cellar.
We opted for the tasting menu with all-Canadian wine pairings. Sooke Harbour is known for growing most of its ingredients on the property and obtaining the rest from places nearby, making everything extremely seasonal and fresh – in fact, the menu changes every day.
We started with the Spiced Roasted Carrot Soup, garnished with a couscous and smoked salmon phyllo bundle, geranium seed oil, toasted walnuts, and minted green fennel seed yogurt – tangy upfront and turning flowery with the last bites. The soup was paired with a Blue Mountain Brut from the Okanagan Valley, a Pinot Noir/Chardonnay/Pinot Gris blend that tasted of sparkly apple juice.
The next dish was the Prophyra Crusted Weathervane Scallop in a dashi broth with braised watermelon radish, romano beans, shallot, squid, herring roe, and a mild chili tamari oil. The scallop was nice and tender and the vegetables delicate, though the flavor of the sauce was a little overpowering. It was served with a garden salad with chanterelle mushrooms, hazelnuts, and tamari balls. These dishes were paired with the 2008 Joie Noble Blend from the Okanagan Valley, a blend of Gewurtztraminer, Kerner, Pinot Gris,  Pinot Blanc, and Hhrenfelser that sounds a little crazy, but had a refreshing peachy taste.

Prophyra crusted weathervane scallop.

Garden salad with chanterelles and hazelnuts.
The third dish was the Seared Smoked Sablefish garnished with a tomato and basil flower salad, Hilary's St. Clair cow's milk cheese from the nearby Cowachan Valley, chickweed horseradish sour cream, and nasturtium oil. The fish was delicious (though I'm also a sucker for any smoked fish) and the accompaniments good matches, except perhaps for the cheese, which didn't blend so well with the rest of the dish. It was paired with a 2008 Fairview Cellars Sauvignon Blanc from the Okanagan, bright and mineral with sulphur on the nose and a taste of pineapples.
Next came my main course, the Roasted Big Eye Rockfish served in a miso lemon-verbena emulsion on chanterelle mushrooms and potato phyllo terrine with sautéed kale and Red Ace beets. The monkfish had a nice meaty texture and wasn't too fishy, while the sauce added a pleasant tangy note. It was served with a 2006 Averill Creek Pinot Gris from the Cowichan Valley on Vancouver Island. We thought this wine was only ok, maybe a bit too mild-tasting to do much for the heavy fish.
I also started itching to try some red wines, so I asked if they could pour a red that might work with the fish instead. Our server brought over a 2007 Blue Mountain Gamay Noir from the Okanagan, a delicious biodynamic wine that tasted of red cherries.
Jay had Slow-Braised Leg of Silverspray Lamb glazed with a Damson plum, purple basil, and sweet cicely root, with a lamb stock and port reduction served with sautéed corn, pepper, tomato, and barley on roasted pearl onions and Sonnleiten Farm's green beans. The lamb was very tender and the vegetable and plum combo worked really well. It was paired with a 2007 Herder Merlot from the Okanagan, which was our favorite wine yet – complex with flavors of cherry, chocolate, and vanilla.

Slow-braised leg of silverspray lamb.
Though we were pretty full, we had to sample the plate of local artisan cheeses: Belle Ann goat cheese from Hilary's Cheese in Cowichan Valley; ash-ripened goat camembert from David Wood's Cheeses on Salt Spring Island; and Baby Blue and White Grace cow's milk cheeses from Moonstruck Cheese, also on Salt Spring. Though unfortunately I didn't take very good notes on the cheeses, we were enthralled by the wine pairing: a 2006 Venturi-Schulze Brandenberg No. 3, from just up the road in the Cowichan Valley. It was a blend of Madeleine and Sylvaner grapes and unlike anything we'd ever tasted – almost like a cross between a port and balsamic vinegar. It was so good and different that we picked up two bottles from a Vancouver wine shop to bring back to NYC.

Venturi-Shulze Brandenberg No. 3.
Dessert was unfortunately the weakest part of the meal: a sort of Apricot Crepe Souffle, lavender crepes filled with apricot custard and poached apricots, broiled with apricot cream, and served with "tuberous begonia buttermilk ice cream." What it really was was a soupy mess. The wine it was served with wasn't much better: the 2006 Tugwell Creek Solstice Metheglin from Sooke (one of the restaurant's neighbors). It was apparently made from honey and tasted strangely like bubble gum, adding a much too sweet flavor on top of the already sweet dessert.

Tugwell Creek Soltice Metheglin.
We finished with petits fours, served on a slab of marble, which we were too full and drunk to appreciate properly. But they looked nice.
Besides the unfortunate dessert, we really enjoyed our meal at Sooke Harbour House. It wasn't the best meal we'd ever had – the sauces and balance of flavors in some dishes were just a little bit off, and both Jay and I agreed that many of the dishes were overly complicated and the kitchen could have cut down on an ingredient or two. But everything was beautifully presented, and we definitely appreciated their commitment to using local, seasonal, and organic products. Combined with the beautiful views and interesting Canadian wines, it made for a very memorable meal.
– by Liz Humphreys, Winederlust Eater in Chief
Winederlust Rating Details (out of 10):
Food: 8.0 (preparation, presentation & taste)
Wine: 9.0 (selection, recommendations, pairings & taste)
Service: 9.0 (helpfulness, attentiveness, knowledge & pacing)
Place: 9.5 (location, view, decor & vibe)

Price Range: $$$ (Expensive)
Essential Information:
Sooke Harbour House / 1528 Whiffen Spit Rd., Sooke, British Columbia, Canada [map]
Direct Line: 1-800-889-9688 / 250-642-3421
Email: info@sookeharbourhouse.com

Website: http://www.sookeharbourhouse.com/